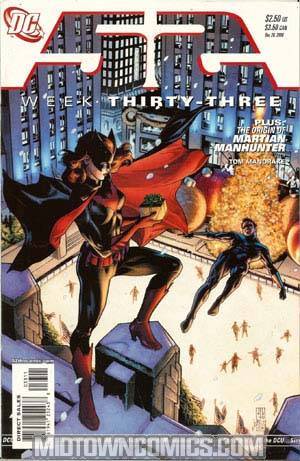 Today's haul included
52
Week 33. Which was alright. Tom Derenicks art didn't bug me, and nice to see more Joe Prado art.
Birds of Prey
#101 was very good. Though
Gail Simone's
pulling out some old
Oracle
(Barbara Gordon, original Batgirl for those who don't know) business back I have no familiarity with.
Fables
Vol. 8: Wolves which I read most of and warms my heart. Also picked up
Wolverine
. That's right, the originally mini-series re released. This is old school
Chris Claremont
(he wrote the
best X-Men stories
) and
Frank Miller
(just before he went to DC and went from superstar to legend in a short couple years). look forward to reading it.
Disappointed that I can't find a copy of the trade to
Gunsmith Cats
: Kidnapped. Though
Dark Horse
is releasing a series of omnibus so I might just get those. Damn... I would've just liked all the old trades, but I guess newer reprints taking up less room is fine too.
Alright, I've been listening to a lot of
Sister Machine Gun
. Very awesome industrial band. they started in 1992 and developed a more unique sound. I'm missing only three singles but I don't need them, I got all the albums and EPs. Also been listening to
Mindless Self Indulgence
limited release Another Mindless Rip Off. Also a special
Static X
mix of songs from the first four records. Right now I'm making a special
White Zombie/Rob Zombie
mix.
Saw the new
Transformer Movie trailer
. It was okay. I'm still scared they'll mess it up. What am I kidding, of course they will. Sad to say I haven't seen too many movies this year. I even missed some that I thought looked real good. that said, I am not missing
Pans Labyrinth
. best movie I saw this year? Ugh... I'd feel like a total loser to say
Jackass No. 2
but it's the most fresh in my mind.
Prestige
and
V for Vendetta
were very good but I don't think I'd ever watch those again.
Superman Returns
and
Pirates 2
stood out but... I don't know. I'm such a loser. And so are the professional critics who gave it
glowing reviews
.
It's closing in to the end of the year, over the next few months I'll be putting together my best of the year for comics and wrestling. Wrestling will be later, just after I get the DVDs for
ROHs
last two shows of the year(which are filmed this weekend. Go
Danielson
! Retain the title!). I'll do my fav list of comics of 2006 in January.
Okay... that's it...